Original Image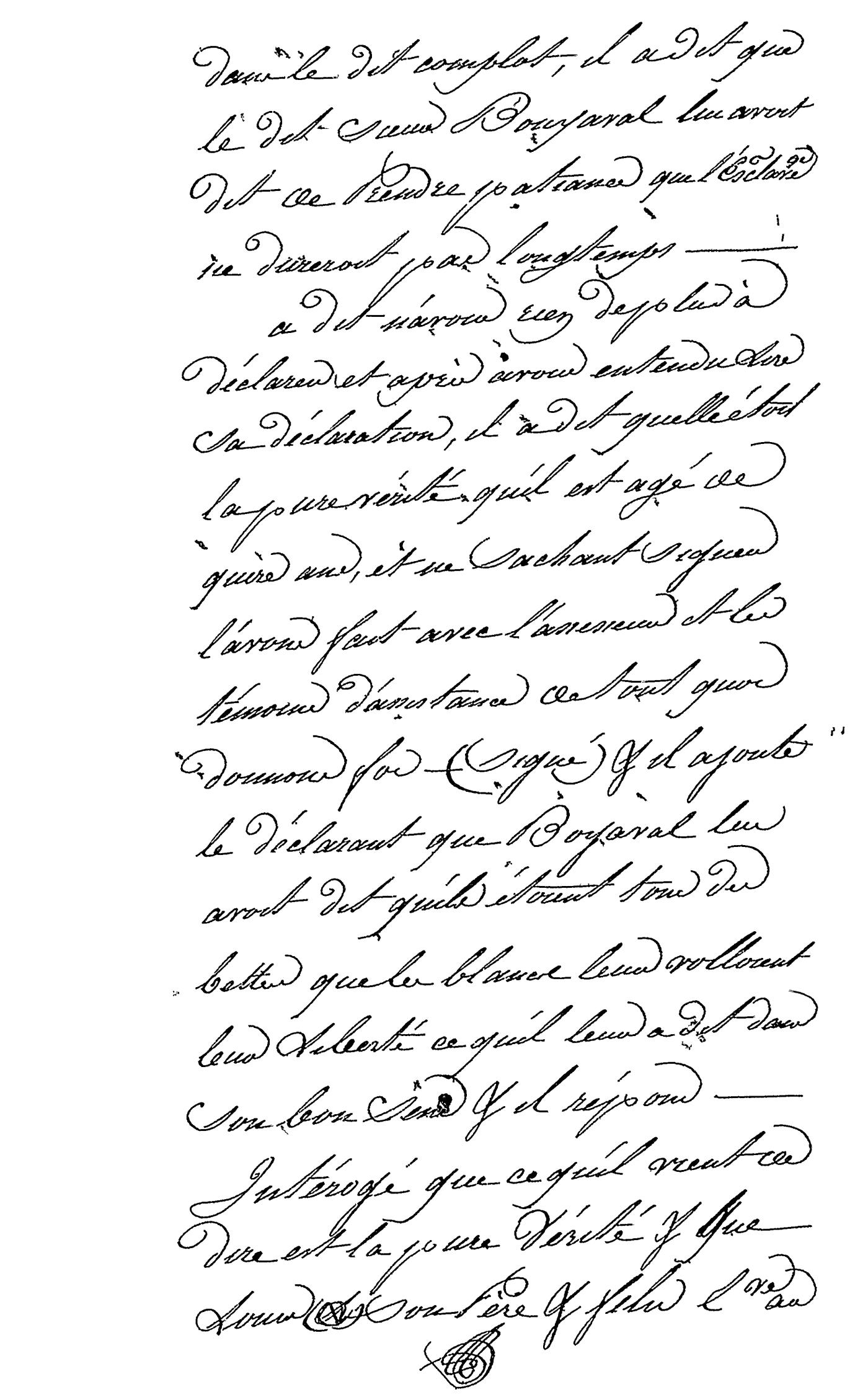 Transcription
"dans le dit complot, il a dit que le dit Sieur Bouyaval lui avait dit de prendre patience que l'esclavage ne dureront pas longtemps

A dit n'avoir rien de plus à déclarer et après avoir entendu lire sa déclaration, il a dit quelle était la pure vérité qu'il est agé de [quinze?] ans, et ne sachant signer l'avons fait avec l'assesseur et les témoins d'assistance de tout quoi donnons foi (signé) & il ajoute le déclarant que Boyaval lui avait dit qu'ils étaient tous des [sic] que les blancs leur [vollaient] leur liberté ce qu'il leur a dit dans son bon sens & il répond

Intérogé que ce qu'il veut de dire est la pure vérité & que Louis son Pere & [Filu] lesclave au"
Translation
"in the said conspiracy, he said that the said Sieur Bouyaval had told him to have patience because slavery would not last for a long time.

He said he had nothing else to declare and after having listened to his declaration read, he said that it was the pure truth, that he is [15] years old, and not knowing how to sign we have signed with the assessor and the attending witnesses to all which we give authority (signed) and he added the declaration that Boyaval had told him that they were all the [sic] that the whites wanted their freedom for them which he told them in his [common sense way] and he replied.

Asked what it was he wanted to say is the pure truth and that Louis his father and [Filu] the slave of"
Pages