Original Image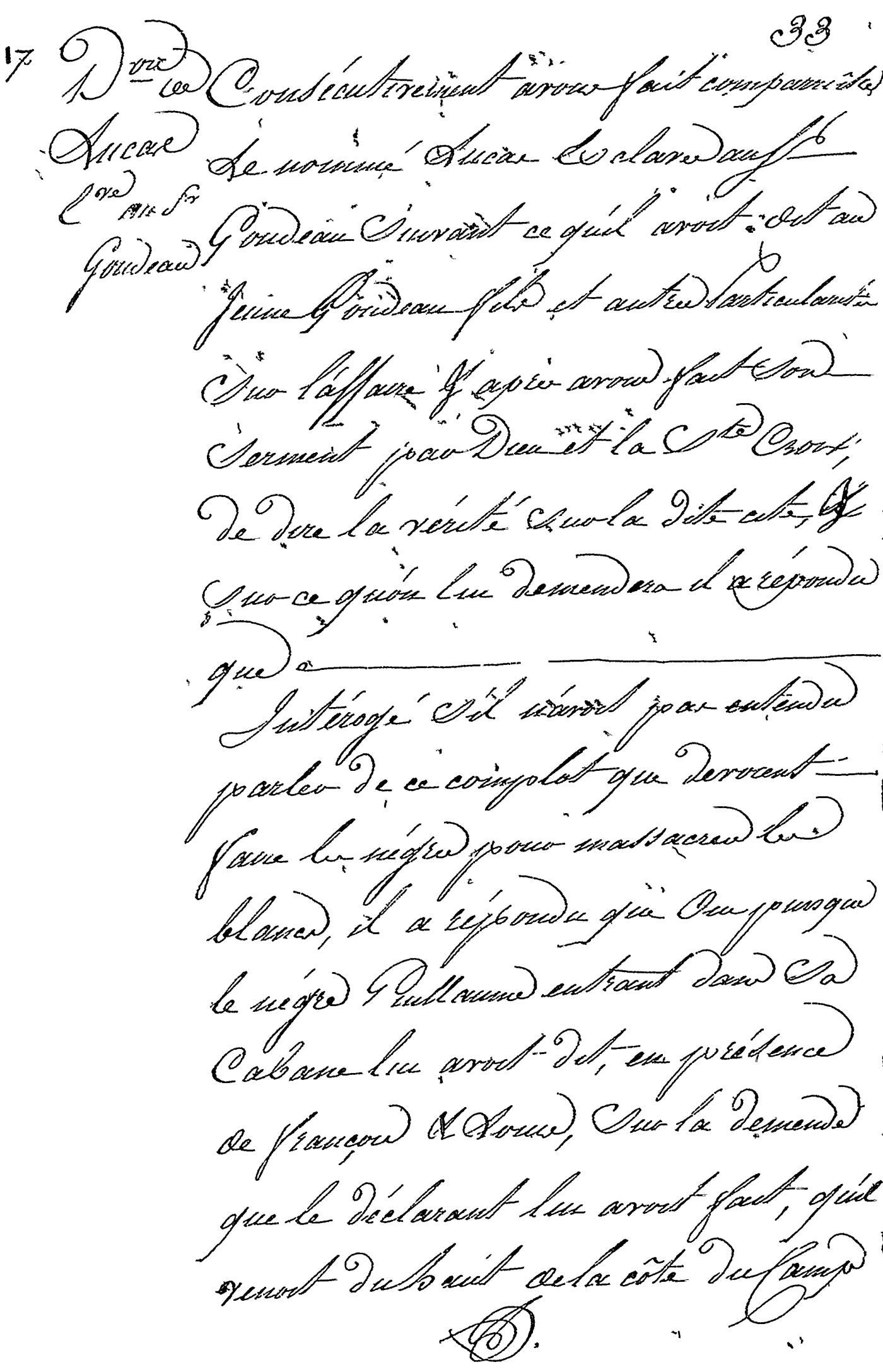 Transcription
"17. Declaration de Lucas e.ve au Sr Goudeau

Consécutivement avons fait comparaître le nommé Lucas l'esclave au Sr Goudeau suivant ce qu'il avait dit au Jeune Goudeau fils et autres particularement sur l'affaire & après avoir fait son serment par Dieu et la Ste Croix; de dire la vérité sur la dite cite, & sur ce qu'on lui demandera il a répondu que

Intérogé s'il n'avait pas entendu parler de ce complot que devaient faire les négres pour massacrer les blancs, il a répondu que oui puis que le négre Guillaume entrant dans sa cabane lui avait dit, en présence de François et Louis, sur la demande que le déclarant lui avait fait, qu'il venait [duhaut] de la côte du camp "
Translation
"17. Declaration of Lucas, the slave of Sr. Goudeau

Subsequently we made to appear Lucas the slave of Sr Goudeau following that which he had said to young Goudeau Jr. and others particularly about the matter and after having made his oath to God and the Holy Cross; to tell the truth about the aforesaid mentioned, and about that what we will ask him. He replied that:

Asked if he had not heard talk about this conspiracy that the negros should make to massacre the whites, he replied that yes, since the negro Guillaume entered into his cabin place and told him, in the presence of François and Louis, about the request that the declarant had made to him, that he had come [down] from the border of the camp"
Pages