Original Image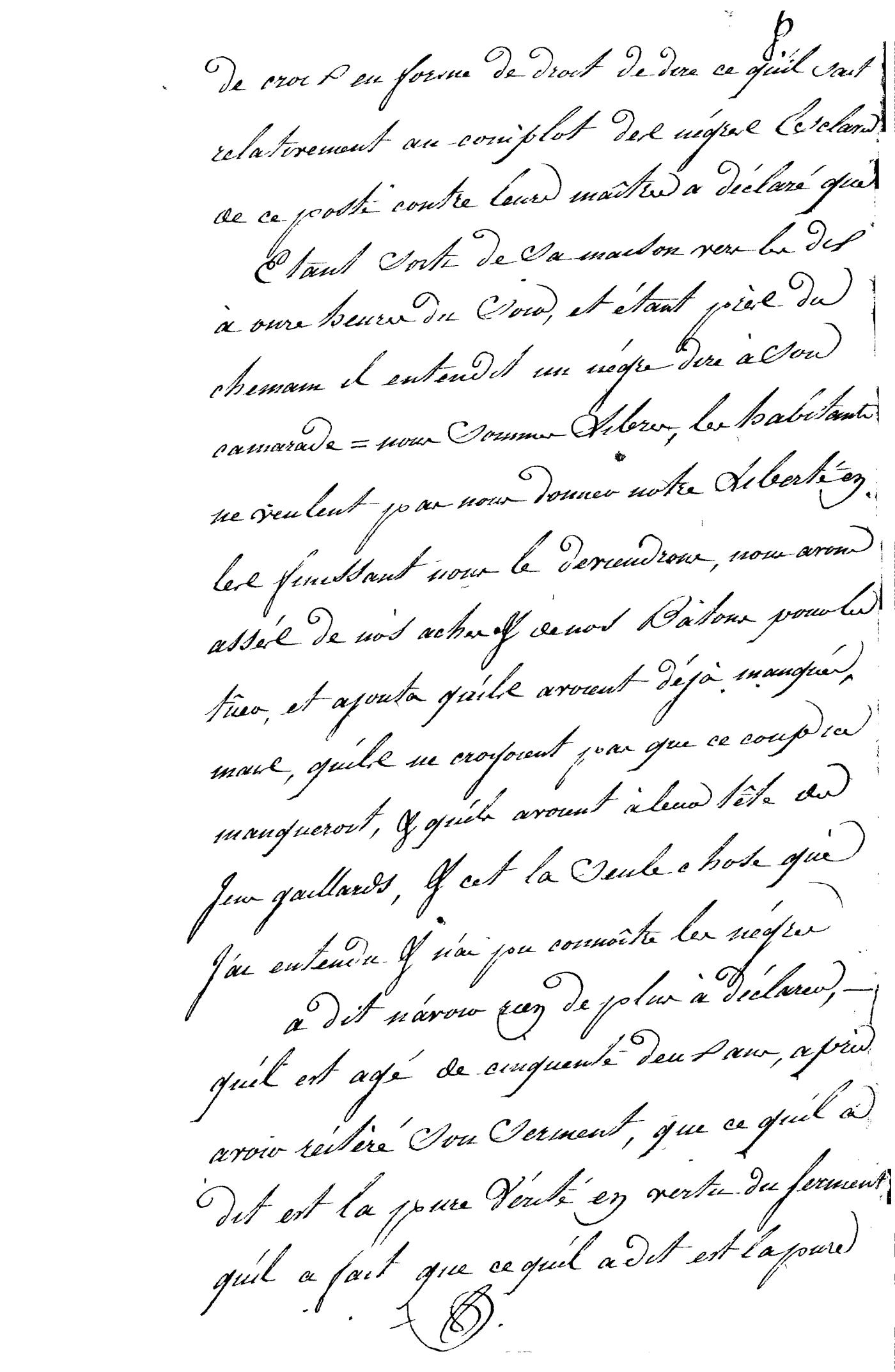 Transcription
"De croix en forme de droit de dire ce qu'il sait Éclatement au complot des nègres esclaves De ce poste contre leurs maîtres a déclaré qu'il

Était sorti de sa maison ver le [...] A une heure du soir, et était près du Chemin il entendu un nègre dire à son Camarade = nous somme libres, les habitants Ne veulent pas nous donne notre liberté en Les fuissant nous le deviendrons, nous avons Assez de nos aches et nos bâtons pour les tuer , et ajouta qu'ils avaient déja manqué Mais, qu'ils ne croyant pas que ce coup Manqueront, et qu'ils avaient à leur tête du Jeuns gallants, et cet la seule chose que J'ai entendu, et n'ai pu connaître les nègres

A dit n'avait rien de plus à déclarer, Qu'il est âgé de cinquante deux ans, après Avoir récité son serment, que ce qu'il a Dit est la pure vérité en vérité du serment Qu'il a fait que ce qu'il a dit est la pure"
Translation
"to tell what he knew in regards to the plot of the negro slaves of this post against their masters. He said that:

Having left his house around 10 or 11 o'clock in the evening, and being near the road, he heard a negro say to his companion, ""We are free; the residents don't want to give us our freedom and by killing them, we will be. We have enough axes and sticks to kill them."" The negro added that they had already failed, but that they didn't believe that this attack would fail, and that they had strong people in charge. The witness said that was the only thing he heard and he didn't know the negros.

He said he had nothing else to tell, he is 52 years old, and after having repeated his oath that what he said was the absolute truth,"
Pages