Original Image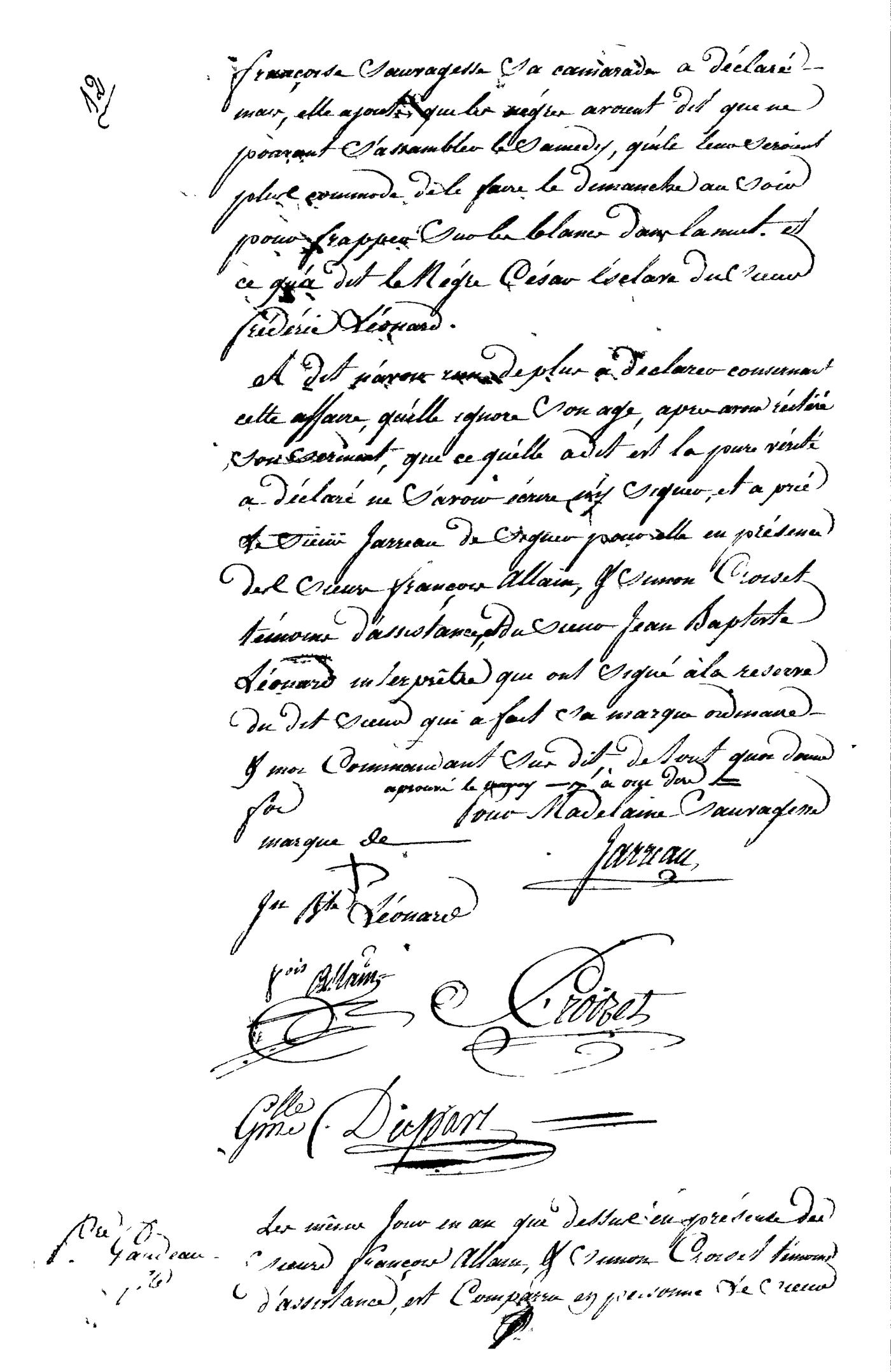 Transcription
"Françoise sauvagesse sa camarade a déclaré -- Mais, elle ajoutait, que les nègres avaient dit que ne Pourraient s'assembler le samedi, qu'elle leurs seraient Plus convenable de le faire le dimanche au soir Pour frapper sur les blancs dans la nuit et Ce que dit le nègre César l'esclave de Mssr. Frédéric Leonard.

Elle dit que n'avait pas de plus à déclarer concernent Cette affaire, qu'elle ignore son âge, après avoir répéter Son serment, que ce qu'elle a dit est la pure vérité A déclaré ne savoir écrire ni signer, et a forcé Mssr. Jarreau de signer pour elle au presence De Messrs. Francois Allain et Simon Croiset, Témoins, d'assistance, et du Mssr. Jean Baptiste Léonard interpretre qui ont signé à la réserve Du dit sceud [?] qui a fait sa marque de main, Et moi, Commandant Sur Dit, de tout que donne Approuve -- a oui dire -- Pour Madeleine Sauvagesse Marque de Jarreau, Jean Baptiste Léonard, François Allain, Simon Croiset, Guillaume Duparc"
Translation
"Françoise, savage, had said, but she added that the negros had said that they couldn't assemble on Saturday and that it would be more convenient to do it on Sunday evening to strike the whites at night and that it was said by César, the negro slave of Mr. Frédéric Léonard.

She said she didn't have anything more to tell about this matter, and that she doesn't know her age. After having repeated her oath that what she said was the absolute truth, she declared that she did not know how to write or sign her name, asked Mr. Jarreau to sign for her in the presence of Messrs. François Allain and Simon Croiset, witnesses, who signed in place of Mr. Jean Baptiste Léonard, interpreter, who made his mark, and me, the aforementioned Commandant, about all of this I give my word. change approved ""a oui dire"" For Madelaine Sauvagesse, (signed) Jarreau mark of Jean Baptiste Léonard (signed) François Allain, Simon Croiset (signed) Guillaume Duparc"
Pages