Original Image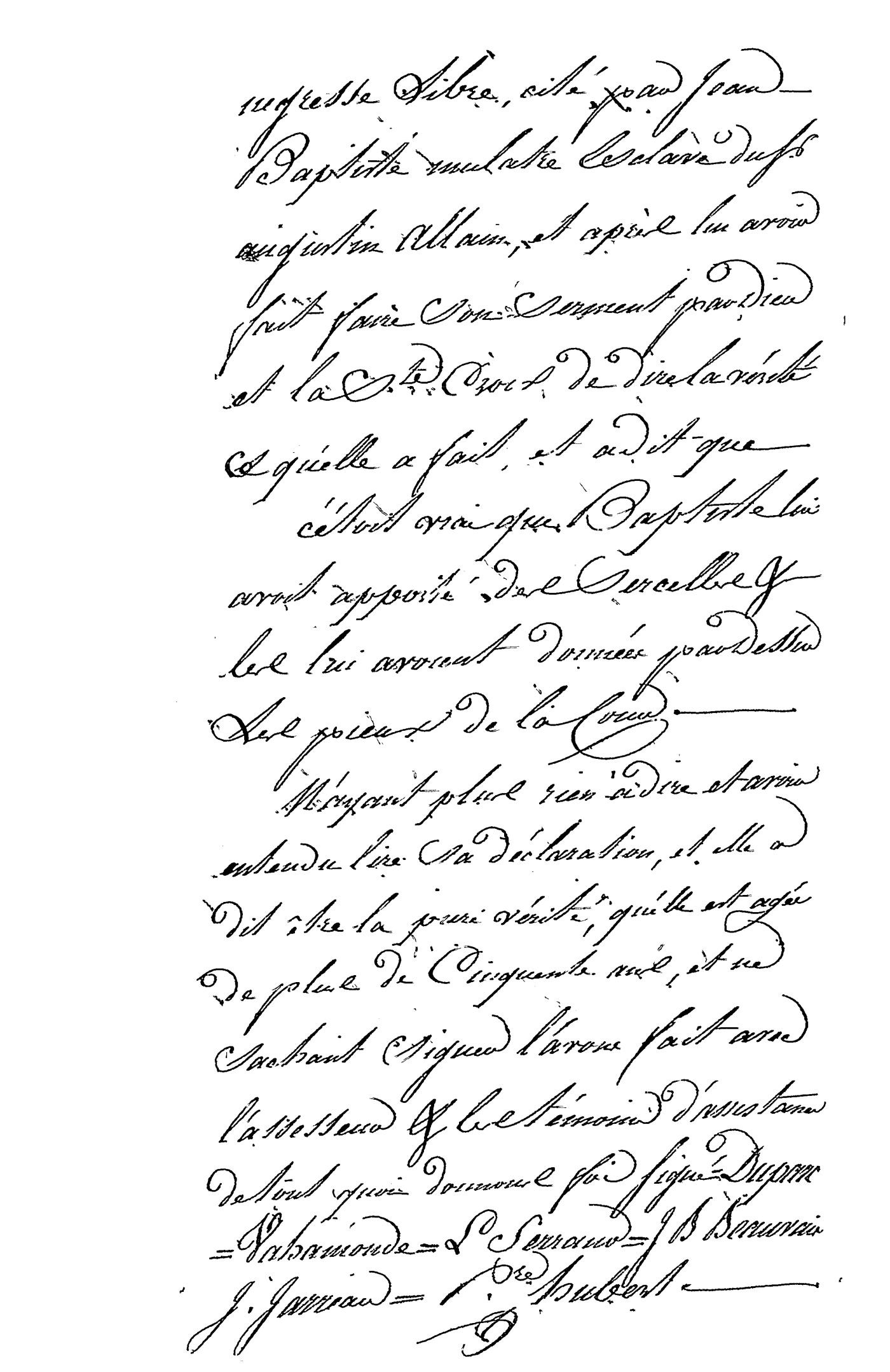 Transcription
"negresse libre, cité par Jean Baptiste mulatre esclave du Sr Augustin Allain, et après lui avoir fait faire son serment par Dieu et la Ste Croix de dire la vérité & qu'elle a fait, il a dit que
C'était vrai que Baptiste lui avait apporté des [sercelles] & les lui avaient donnée par dessus [sis pieux] de la [cours]
N'ayant plus rien à dire et avoir entendu lire sa déclaration, et elle a dit être la pure vérité, qu'elle est agée de plus de cinquante ans, et ne sachant signer l'avons fait avec l'assesseur & les témoins d'assistance de tout quoi donnons foi. Signé Duparc Vahamonde G Serrano JB Beauvais J Jarreau P Hubert"
Translation
"free negresse, mentioned by Jean Baptiste mulatto slave of Sr Augustin Allain, and after having made her make her oath to God and the Holy Cross to say the truth and which she has done, she said that
It is true that Baptiste had brought her some [sercelles] and he had given them to her above [sic] of the trail.
Having nothing more to say and having heard her declaration read, and she said it to be the pure truth, that she is more than fifty years old, and not knowing how to sign we have done it with the assessor and the attending witnesses of all which we give authority. Signed Duparc Vahamonde G Serrano JB Beauvais J Jarreau P Hubert"
Pages